An abundance of merchants and service providers has spoiled customers. Now, we want to get benefits for every dollar spent. Such expectations make companies additionally engage customers through credit card rewards.
These rewards programs enable consumers to get flexible points or cash back to their cards and spend bonuses later however they like. 
But what is better if we compare these two? When should you prefer to earning points instead of getting money back?
This article contrasts the two options to help you choose whatever is best for you.
It's a great feeling to find best deals on items you are looking for. It's even better to get rewarded in addition to best deals. Redeem rewards to gift cards and  cryptocurrency!
Which is Best: Cash Back or Points?
Neither flexible rewards credit cards nor cash back is perfect. They are just suitable for different situations and uses. Hence, before choosing a service provider, you must know what bonuses are best for you.
While using rewards credit cards, you get additional points for every purchase or target action made; with cash back cards, you receive a specific percentage of money spent back to your account.
This way, rewards are more popular among airline and hotel partners or travel companies. They are also available in apps designed specifically to treat users with a unique rewards program.
Through such apps, people access an extensive network of merchants to earn bonuses for every purchase and spend them with maximum return on investment. On the other hand, cash back is more universal. It enables consumers to return a part of their spending by purchasing from any store that offers cash back.
Here's a brief comparison that should help you make up your mind: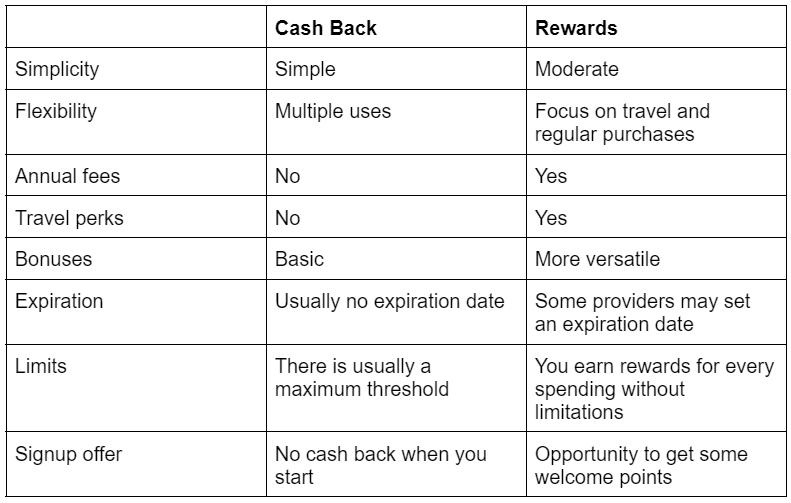 As you see, rewards cards are more sophisticated. They offer more advanced bonuses while charging annual fees. Cash back credit cards have no annual fees but limit the amount you can save and offer no signup bonuses.
Let's discuss both options in more detail below.
What is a Cash Back Credit Card?
Cash back credit cards are similar to regular credit cards, but they allow you to get a part of the money you spend back. You can choose a category of purchases you'd like to earn bonuses for or buy from merchants partnering with a card issuer. The issuer usually provides detailed information on its partners and their cash back percentage. You can check it on the official website of the financial services provider or download their apps with a listing.
The ways to get money back vary depending on the card. A flat-rate card has the same rate for every purchase. There is no difference whether you pay at a restaurant or order a book online. With other cards, you may enjoy higher rates for certain types of payments. For example, earning cash for utility bills or groceries may be the most advantageous. 
You may also come across cards that change percentages for different categories of goods and services from time to time. In this case, you may benefit from seasonal offers and earn exceptionally high bonuses if you buy something at the right time.
How Does It Work?
While a rewards credit card generates bonuses, cash back cards actually provide you with money. You may receive a check from the card issuer, transfer funds to your bank account, or pay with cash back at online platforms like Amazon.
The exact functionality, limits, and charges depend on a provider and the types of cards. So if you want a cash back card, you need to pick the preferred provider, examine their rates, and send them a request with up-to-date information to receive a card.
Here are the main cash back card types and how they work:
Flat-rate
Flat-rate cards offer the same percentage for all qualifying purchases. You may earn a percentage for every purchase, be it a new gadget or groceries.
For many years, a 1% cash-back reward rate was an industry standard followed by all providers. Yet, as the competition in the credit card industry is getting fiercer, 1.5% and even 2% rates become more common.
In particular, you may enjoy unlimited 1.5% cash back on all purchases made with Capital One Quicksilver Cash Rewards Credit Card, American Express Cash Magnet® Card, or Chase Freedom Unlimited®. If you want a 2% cash back rate and up, you can get it by opening a Wells Fargo Active Cash® Card or Citi® Double Cash Card, etc.
Tiered-rate
Tiered-rate cards allow users to return more money for specific categories of purchases. These are usually dining, groceries, gas (check out the best ways to earn cash back on gas here), or travel-related transactions. Besides higher cash back rates in selected categories, some tiered-rate cards also support a low flat rate (usually 1%) for other purchases.
Each provider offers its own higher rate categories. Thus, you must know your spending patterns to get more value from a tired-rate credit card. The spending habits will help you choose the most suitable provider.
For example, Savor Rewards from Capital One offers unlimited 4% money back on entertainment & streaming services and 3% at grocery stores. A cash rewards card by the Bank of America allows cardholders to choose one of the eligible categories for a 3% cash back and offers 2% at groceries and wholesale clubs.
Rotating-category
This type of credit card is for those who chase ultimate rewards. You can find rotating-category cards with 5% cash back or even more. So, what's the deal?
The killer rewards are available only for specific categories of spending, which regularly change. As a rule, the card issuer rotates the cash-back areas every three months, and you need to adapt to it. Hence, such rewards cards are suitable mainly for people ready to change their spending patterns based on what the card issuer dictates.
Discover it® Cash Back and Chase Freedom Flex are the most well-known rotating-category cards. So if you like this option, these are the issuers you may consider.
Increase your purchasing power
Your hard earned money spent via Monetha's app are worth more. Get rewarded with every purchase you make and redeem rewards to gift cards and  cryptocurrency!
How Can You Redeem Your Cash Back?
Suppose you own a credit card with cash back and have saved some money. What are the ways to spend them and get your benefits? Below are the main redemption options to consider:
Online shopping. You may be able to shop online by transferring funds to PayPal, for example.
Gift cards. Some issuers allow redeeming cash as gift cards you can use at popular restaurants or online stores.
Statement credit. You may be able to send money as a statement credit to your credit card's balance.
Direct deposit or check. Some cards allow redeeming cash back as a check or direct deposit to your savings and checking bank account.
Note that redemption options vary by the issuer. So be sure to clarify how you can spend your savings in advance.
Cash Back Cards: Pros and Cons
Cash back cards are a preferred option for people who don't want to pay regular fees for an advanced rewards program. They are also easier to figure out how to use and have other advantages.
Pros
You can use these cards however you wish. If you choose a flat-rate card, you will enjoy the same rewards rate for many categories of purchases.
Redeeming cash is easier. The rules are usually pretty transparent, so you will quickly understand how to get a part of your expenses back.
Have no annual fee. Most providers offer their cards for free.
Good for occasional use. Cash back is a perfect solution if you don't have a goal to save as much as possible and regularly get various bonuses.
Cons
Limits. A cash back card may limit the amount you can save on higher-tier rewards.
No signup bonuses. While points cards typically offer users extra bonuses at the start, cash back cards give nothing.
Credit scores affect your earnings. People with poor credit scores may be unable to get a card or use it to the fullest.
Other Ways to Get Money Back
Apart from credit cards returning you a percentage of your purchases, there are other ways to get cash back. Mobile apps are so far the most convenient of them. You only need to install an app with a simple rewards program on your phone.
Here are the main alternatives to consider:
Apps
If you cannot or don't want to get a card for any reason, try using an app. Rewards apps take seconds to install and start generating cash back or bonuses for supported categories of spendings right away. Monetha is among the options you should definitely try using for all kinds of rewards. Note that mobile apps are top-rated for shopping.
Websites
Cash back websites pay you when you use their pages to access third-party products or services. The sums range from pennies to hundreds of dollars, depending on what you buy. You must create an account and choose one of the listed retailers to order with them.
Special promotions
Some merchants have loyalty programs or special promotions that allow their customers to earn cash back. Check your favorite retailers' websites to see whether any of them has such an offer.
What is a Points Credit Card?
Points cards are very similar to cash back cards, but with one big difference – you get points or flexible rewards instead of cash. Flexible rewards can be anything, from miles and travel perks to charity donations. When you get one of these cards, you may need to pay a fee, but it gives you access to valuable rewards that help you save money and enjoy many bonuses.
Therefore, if you consider getting a points card, you must clearly understand your needs. For instance, if you want a card to cut expenses while traveling, prefer points and miles cards. Points and miles cards generate flexible points you can exchange for travel benefits like travel insurance or airport lounge access. If you love online shopping, get a card that allows you to accumulate incentives by placing orders in top ecommerce stores. Given the variety of this type of card, you are sure to find the one that perfectly matches your spending habits.
How Does It Work?
You need to open an account with one of the providers to start using rewards cards. Since the terms of use may be tricky, it's worth researching the main rules before subscribing to a specific service.
Once you have a card, you are ready to get your first points. The common ways a user earns include:
Spendings. You receive flexible points for every purchase of a specific category or at a particular website. In most cases, the more you spend, the more flexible points you earn.
Signup bonuses. You get flexible points as an incentive once you create an account with a credit card issuer.
Referrals. You earn flexible points when you invite a friend to create an account, join a loyalty program, place an order, etc.
If you want to save points more conveniently, you may use a rewards app like Monetha instead of cards. It doesn't charge an annual fee and ensures more value from points than standard providers.
ready? Here's your welcome bonus!
Sign up to Monetha's app and get a welcome bonus of 2000 points to start your earnings journey!
How Can You Redeem Your Points?
Since the policies of travel rewards and other points cards greatly vary, you must check redemption options at the start. This way, the selected issuer is more likely to meet your expectations in the end. Overall, the most common ways to redeem your points are:
Statement credits
When it's time to redeem points, your issuer generates a statement credit. Then, it can deposit the cash value of rewards points into your account balance.
Travel rewards
Travel credit cards allow earning flexible points you can later spend to buy cheaper tickets, get a window seat, and other bonuses. You must log into your travel company's account to spend them.
Online shopping
Shopping-based rewards programs allow users to redeem points during their subsequent purchases. They can do it only at partner stores.
Charitable donations
You can donate flexible points to charitable donations listed by an issuer. This option is suitable for consumers who prefer good deeds to self-interest.
Cryptocurrency 
Some providers of this type of card allow redeeming flexible points for crypto. It gives consumers a unique way to invest their rewards and earn more money.
Points Cards: Pros and Cons
Points cards for shopping and travel rewards are perfect for people who regularly spend a lot on the same category of purchases. Here's why you should use them:
Pros
There are many extras and valuable perks. These cards are more versatile than cash back credit cards. You can use flexible points for investment, travel, shopping, etc.
High signup bonuses. You earn flexible points only for creating an account. No extra actions are needed.
More generous rewards. These cards usually generate more rewards points than their cash back counterparts.
Suitable for regular buyers and small businesses. If you want a continuous loyalty program, these cards are what you need.
Cons
Rules may be confusing. To maximize the benefits of a rewards program, you must learn all aspects of its rules.
May charge an annual fee. Some providers impose annual fees you must pay to access rewards.
How to Choose the Best Option for You?
Being savvy is essential when choosing between cash back or points cards. You must analyze how you spend money to understand whether the selected option matches your habits. Simply put, earned rewards must bring you maximum value.
For example, if you have a large family and regularly buy groceries, you may need a card that returns cash back for groceries. On the other hand, if you prefer to order everything online, a points card provider with a shopping rewards program is your top choice.
Generally, in most cases, points cards have broader reward opportunities. So if you plan to use a reward card often, it may be better to opt for a point-based system. This way, you'll enjoy excellent expense management and investment opportunities.
Conclusion
Cash back credit cards and points loyalty programs can optimize the expenses of anyone paying for products and services. If you haven't used them before, it's time to rethink your approaches to saving money. You'll be surprised by the bonuses you can get. Just be sure to check the terms and conditions of the chosen program beforehand to pick the best one for you.
If you have analyzed your spending, you probably know how much we waste on repetitive purchases. You can considerably optimize your monthly budget by getting some money for each of such expenses through cash back.
By using points cards, you can save even more. This kind of rewards program lets you access various bonuses like travel benefits. Since you get them for free, you avoid paying for add-ons additionally. It's another great way to spend less.
Hence, regardless of whether you use one of them or both, you can:
Easily monitor and access special offers from partners

Receive money back for all or specific categories of purchases

Transfer points to airline or hotel for cheaper trips

Exchange bonuses for gift cards
All these benefits allow you to have financial rewards and purchase cheaper to get richer.